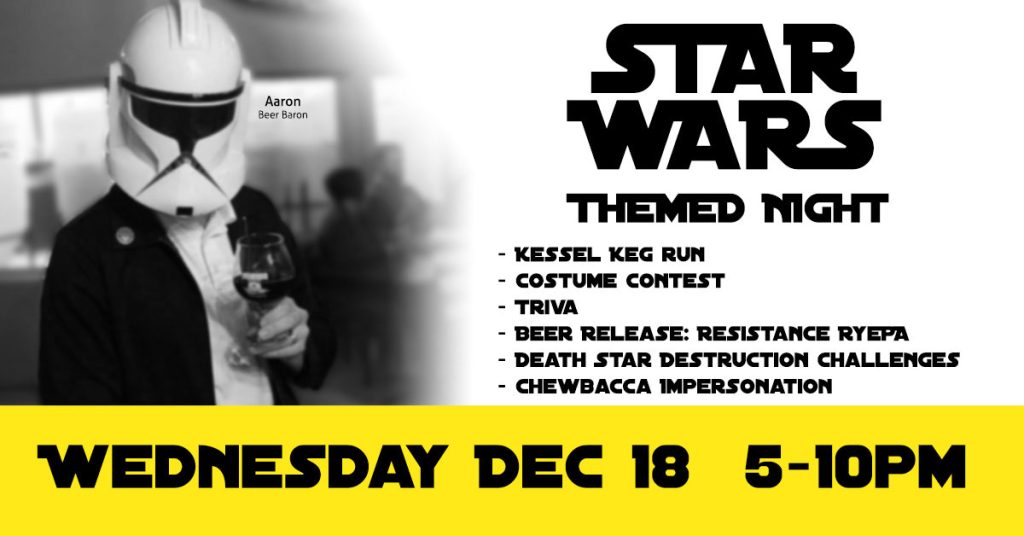 A long time a ago in a galaxy far, far away…
Lazy Beach was on a mission to create a new beer experience.
With the release of the new Star Wars movie we created a new Beer just for it. Resistance RyePA. Plus we are bringing back trivia with even more activities.
Kessel Keg run
The evening will start out with a Kessel Keg run. Signup starts at 5:00. You will have a beer and will have to make the run while dodging keg walls and with your entire beer intact. If your the fastest you'll get more than bragging rights.

Trivia
Trivia will be starting around 6:30 pm. This will be an Individual style. The first 3 people to get the answers correct and turned in first will win! there will be multiple rounds throughout the night.

Death Star Destruction Challenge
A battle like no other. Sign up starts after the first round of trivia. Details when you sign up. Hope you like popcorn!
Costume contest
Costume contest will be at 8pm so don those fancy helmets and capes.
Chewbacca Impression
Chewbacca Impression starting at 9pm. Who has the best wookie impression?
Topshelf Grill will be on sight making out of this world grub.
Fulton Kettle Corn will be bringing the goods to tame even the hungriest of Wampa.
As always we are Family Friendly until 8pm.
WE WILL BE OPEN UNTIL 10PM
Interested in being involved? Reach out to us at beer@lazybeachbrewing.com