Taproom 2: "Sun of a Beach"
Place: Lazy Beach Downtown
312 N. Chaparral St. Unit B Corpus Christi, Texas 78401
Taproom Hours:
Monday : Closed
Tuesday – Friday: 4-10pm
Saturday: 11am-10pm
Sundays: 11am-8pm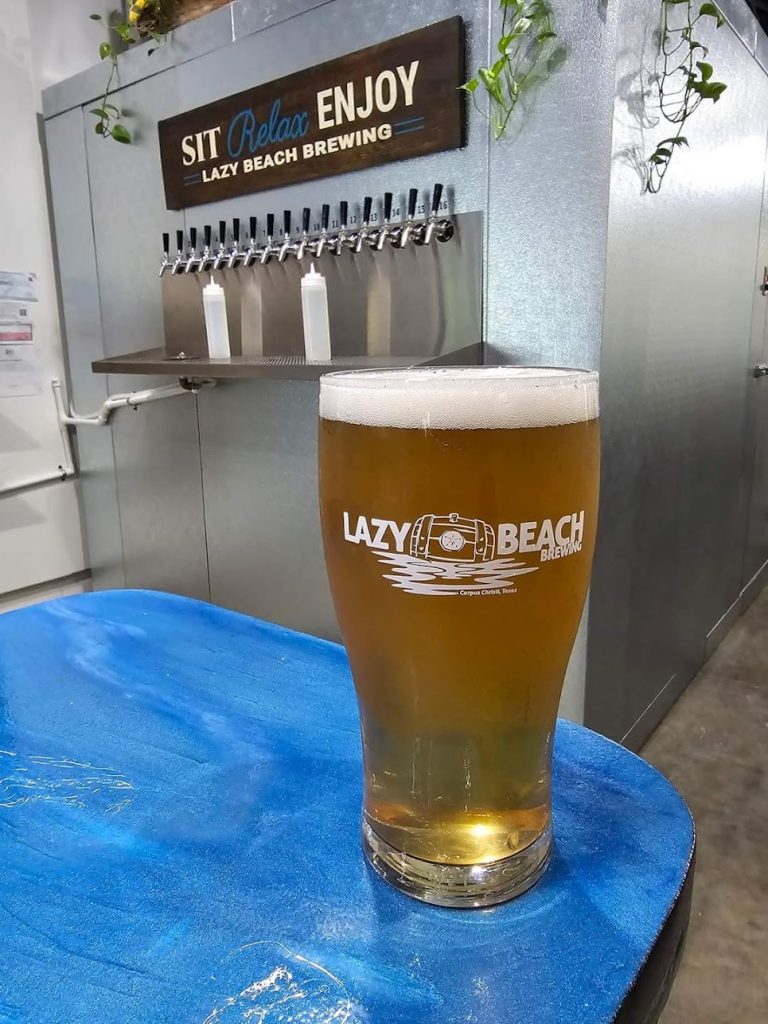 Imagine…
Fade In:
Scene 1: September 2023. A picturesque sunset over the bay, painting the sky in hues of orange and pink. Downtown Corpus Christi is alive with the hum of activity. The camera pans to Lazy Beach's brand new taproom, where laughter and clinking glasses create an inviting symphony. As you step into the taproom, it feels different but oddly familiar. A blast of cold air from the AC and the slow vibes of reggae music seem to dissolve the day's stress. You approach the bar, greeted by familiar faces you've met at your favorite south side watering hole. You start with a pint of the classic Corpus Christi Blonde and find a cozy spot to unwind.
Scene 2: March 2023. The Lazy Beach team gathers around a picnic table, creative juice in hand, and plan the high level concept for the new taproom. Their excitement is palpable as tons of ideas flow forth as we enjoy the calm before the storm.
Scene 3: The screen goes black. We have nothing nice to say about working with our city development services, so we are erasing it from our memory and this story. Time Passes.
Scene 4: May 2023. Construction begins at the new location. The space starts to transform from a blank white canvas into a relaxing, lazy location, but it is currently anything but that. Paint cans, wood planks, and the sound of hammering and cutting fill the air. The camera focuses on Chris, covered in sawdust, and David, diligently sanding boards for the bench.
Scene 5: June 2023. The camera fades in, revealing the taproom in a state of controlled chaos. Half-finished projects and construction materials abound. The goal was an opening week mirroring the memorable June 6th of 2014 and 2015. Despite the mess, the team forges on.
Scene 6: August 26th. Soft opening day. The new taproom undergoes a deep cleaning and the last few critical items are finishing up. Its a stark transformation from just a week ago. The Lazy Beach team, now joined by friends and family, are finishing up during these usually nerve-wracking final hours. However it was unusually calm and with time to spare, the team shares a beer before officially opening the doors for the first time.
Fade Out