We love to try new recipes and make something different. In fact we have made at least one new beer every week at the Lazy Beach Taproom since it opened on June 6th 2015.
See the full list of beers released in 2018
Beers Found Around Town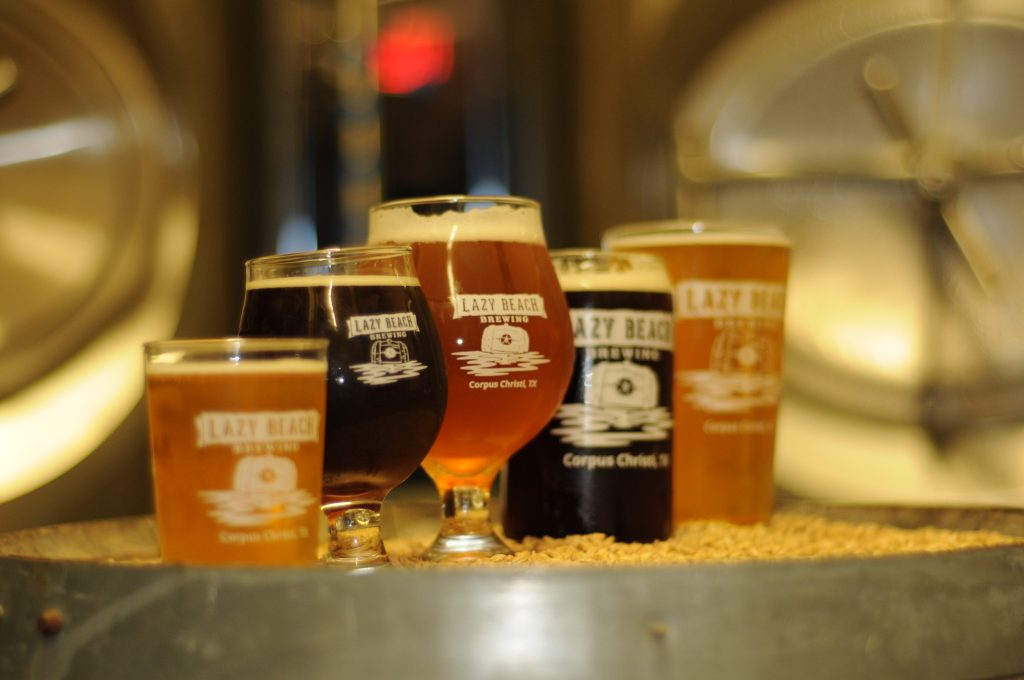 Blonde
Light and refreshing, this blonde ale is made for the one hot season of Corpus Christi. Perfect for active lounging, lazy afternoons, eating tacos, mowing the lawn, swimming in the surf or wherever the day may take you.
Corpus Christi
This beer began its life as a slightly hoppy American Amber and went on a roller coaster of flavors before settling in. Each time we brewed it it would change based on the most common feedback left on comment cards in the taproom. It went hoppy then dark, but finally it settled in as a rich and malty copper blonde.
Hard Kombucha
Tart, sour and slightly sweet, this refreshing alcoholic kombucha is 5.5% ABV and surprisingly uplifting. Sip your way to the perfect lazy afternoon as your taste buds call you back for another sip and your mind wanders.
Texas Bock
This Texas style bock has smooth malty goodness written all over it. It is not as dark, heavy or boozy as a traditional German style bock making it much more enjoyable in Corpus Christi's heat.
Session IPA
Late kettle additions of American hops and a generous addition of dry hops gives this Session IPA a smooth bitterness, amazing aroma and and delicious flavor without being overpoweringly bitter.
Choppy Waters
This double IPA is hopped with Centennial and Ekuanot hops
Taproom Only
These beers have been spotted in the taproom since it opened with new ones coming out every week. We regularly forget/get to lazy to update this list, so it is probably out of date.
In 2018 we put out 48 different beers and 21 different hard kombuchas. See the full list here
C-Water (With C101)
Jackrabbit Double IPA by Steven Bob Moreno
Beach in Wheat with Orange, Pineapple, Blueberry
Pier Pressure Pecan
Poblano Wit
Bayside Belgian
Summer Stout
Golden Royal Bengal
Classic Pale Ale
English Bitter
Irish Stout
Sun Burnt Blonde
Belgian Abbey
Lovers In the Surf
Grapefruit Pale
Grapefruit Session IPA
Bonfire Smore Stout
New Page Porter
Hurricane Patricia Hot Chocolate Stout
Single Hop Series – Chinook Hops
Single Hop Series – GR Tradition Hops
Single Hop Series – Columbus Hops
Single Hop Series – Delta Hops
Caramel Milk Stout
Irish Brown
Pumpkin
El Presidente's Pecan Stout
Belgian Admiral
Get Around Brown
Semper P..ale
Total Eclispe Summer Stout
English Black IPA
Oktoberfest
Red IPA
Yet Another IPA
Whatamelon Wheat
Watermelon Wit
The Mustang
Pecan Porter
Azacca IPA
Azacca Was Not Enough
Irish Red
Rye IPA
Prickly Pear
Scottish Rye
White IPA
Oatmeal Stout.. Twice.
Golden Stout
Roggenbier
The English
Kook
Hermits Lair..
Scottish
Dunkelweisen..
We forgot a few somewhere in there….
Homebrew Collaboration:
Steve and Weebo's Peewees Pecan Porter
Sean Sutherland's Raptor EyePA
Wesley Earhart's Ooh-Rah – Roggenbier
Brent Faldwell's Jamaican Snap Saison
Clint Schena's Little Rico Saison
Paul Holder's Cubano
Sean Sutherland's Raptor EyePA
Russell Wagner's Belgian IPA
Andrew, Brice and Thomas' Shipwreck Porter
Chef Association's Diwali