We love to make new things. In fact we have made at least one new beer every week at the Lazy Beach Brewery since it opened on June 6th 2015. See the full list of beers released in 2018. We have a core lineup that satisfies most taste buds but for the adventurous type we have something new, fun and unique on our 14 taps.
The list on the sidebar of the website and at the bottom of this page is auto-magically updated anytime the menu in the taproom is changed.
Core Lineup

Corpus Christi Blonde
This beer began its life as a slightly hoppy American Amber and went on a roller coaster of flavors before settling in. Each time we brewed it it would change based on the most common feedback left on comment cards in the taproom. It went pale and bitter then dark, but finally after 20 versions it settled in as a malty blonde ale.
5.2% ABV – 15 IBU
Choppy Waters
Getting its name from the choppy surf so commonly found here, this double IPA has a nice malty richness to complement the generous hop additions. Hopped with Cascade and Ekuanot hops.
8.7% ABV – 80 IBU
Texas Bock
Old faithful, this Texas style bock has smooth malty goodness written all over it. It is not as dark, heavy or boozy as a traditional German style bock making it much more enjoyable in Corpus Christi's heat.
4.3% ABV – 15 IBU
Hard Kombucha
Tart, sour and slightly sweet, this refreshing alcoholic kombucha is surprisingly uplifting. Sip your way to the perfect lazy afternoon as your taste buds call you back for another sip and your mind wanders.
Fun fact: We are the first (and currently only) brewery in Texas to make a hard kombucha!
4% ABV
Coastal Haze
Bringing the hazy IPA to your lazy kinda day.
4.8% ABV – 55 IBUCurrent Seasonals
Taproom Only
Below is our current (automagically updates!) taproom menu
1. Mosaic IPA
6.6% ABV IPA - Dry hopped with mosaic hops, giving it a complex profile. This powerhouse hop provides a warm woods aroma, sweet berry and currant flavors.
2. Amber Waves
4.6% ABV Amber Ale - The color of your energy, brewed with caramel malty flavor and a hint of roastiness.
3. Corpus Christi Blonde
5.4% ABV Blonde - Find out if Blondes really do have more fun with this all American, easy drinking, light beer.
4. Texas Bock
4.3% ABV Bock - The pride of the Big Kabrewna, a rich, malty delight to cheers with friends
5. Choppy Waters
8.4% ABV DIPA - Hold on to your hats, we see big waves in the form of a Double IPA brewed with Centennial & Ekuanot hops.
6. Weizenbock
6.4% ABV Weizenbock - Dunkelweizen's maltier brother, the wheat version of a German Bock. Pairs wonderfully with fresh banana bread!
7. Liquid Bread
7% ABV Doppelbock - Double the flavor and double the punch with this malty, food-friendly beer pairing, boasting notes of toasted bread.
8. Root Beer
0% ABV Soda -
9. Mariana's Trench
9.5% ABV Imperial Stout - Contains the deepest known points on Earth and is the namesake of this robust dark Imperial Stout. The trench brags depth, dark chocolate and subtle mint.
10. Oatmeal Stout
5.7% ABV Stout - velvety smooth with dark chocolate undertones
11. Molinillo
5.5% ABV Mexican Hot Chocolate Milk Stout - Named after the wooden whisk used to stir hot chocolate in Mexico this dark delight is brewed using lactose sugar, Ancho chilis, cacao nibs, cinnamon, vanilla, and just a dash of cayenne. Dale!
12. Cranberry Oatmeal Stout
5.7% ABV Stout - velvety smooth with dark chocolate undertones and bright cranberry
13. Lemonade
0% ABV Soda -
14. Pineapple Upsidedown Kake
4.3% ABV Hard Kombucha - A light and refreshing take on a traditional dessert, this kombucha is flavored with pineapple, cherry, and a touch of vanilla.
15. Summer Breeze
5.5% ABV Hard Kombucha - A sweet and refreshing blend of hibiscus, rose, and ginger will have you feeling fine
17. The KOOK
5.4% ABV Saison - Refreshing & hydrating cucumber saison making its annual appearance.
18. Hard Seltzer
4.3% ABV Hard Seltzer - Refreshingly light, this hard seltzer is our first ever! Prepared in a delightful variety of flavors. Ask Marcela for her go-to!
19. Sparkling Water
0% ABV Lazy Beach - House-made filtered, delicious. We got Lazy . Guess we better make more beer.

In 2018 we put out 48 different beers and 21 different hard kombuchas. See the full list here
Currently we are feeling lazy and have not compiled 2019, 2017, 2016 or 2015. Maybe one day we will get around to it.
Upcoming Weekly Beer Releases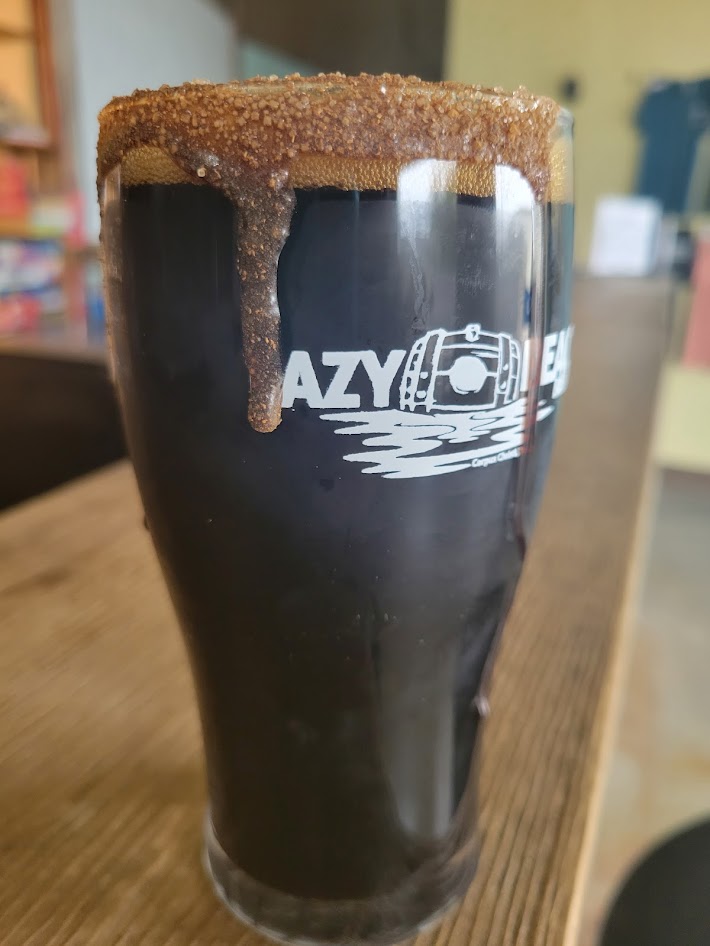 Molinillo
January 12th, 2021
5.5% ABV Mexican hot chocolate is only one way to describe this beer. But if you ask us (not to sound too Lazy) its the best. dressed with Abuela's Hot Chocolate syrup and Cinnamon Sugar come warm up with this one
Taproom Seasonal:
In addition to releasing one flavor each week we have quite a few beers that we like to do every year. Below are some of them:
Poblano Wit – for May 5th Cinco de Mayo
1799 Stout – for St. Patricks Day
Diwali – For Diwali Festival usually in Oct or Nov
Lovers in the Surf – Valentines Day
Kook – Usually during May or June.
Summer Stout – mid summer
Pumpkin – When the uggs come out.
Taco Bout – September
Oktoberfest – Duh.
Pretty in Pink Hard Kombucha – October for breast cancer awareness.
First Production Brewery in Corpus Christi – Check
First Hard Kombucha Brewery in Texas – Check
First ?? in the Nation (just kidding we are too lazy)